Strong brand and models
Already in the SMART CONNECT KNX e-charge II integrated manufacturers:










Dynamic load management (DLM)
Static load management (SLM)
Support for 5 charging points
Different manufacturers and mixed operation
Connection via IP or RS485 (Modbus)
Configuration via ETS
2 HPs in control cabinet without additional adapter
Private use and use in companies or hotels
Energy consumption often presents a problem. A mains connection that is too small and several energy-consuming appliances in the household at once lead to long charging times with a low charging current. The energy supplier has to install a stronger supply line, which comes with high investment costs. With the SMART CONNECT KNX e-charge II and the use of DLM smart home technology, charging is now possible even with small household connections. The available electricity is evenly distributed to all charging points, preventing the household connection from becoming overloaded.

In companies or hotels, several charging points need to be operated at once. The SMART CONNECT KNX e-charge II allows up to five charging points per gateway. With the SMART CONNECT KNX e-charge II and a smart meter, DLM enables high power-consuming appliances to be taken into account while avoiding load peaks. The prioritisation of one charging point offers additional benefits for a wide range of use cases.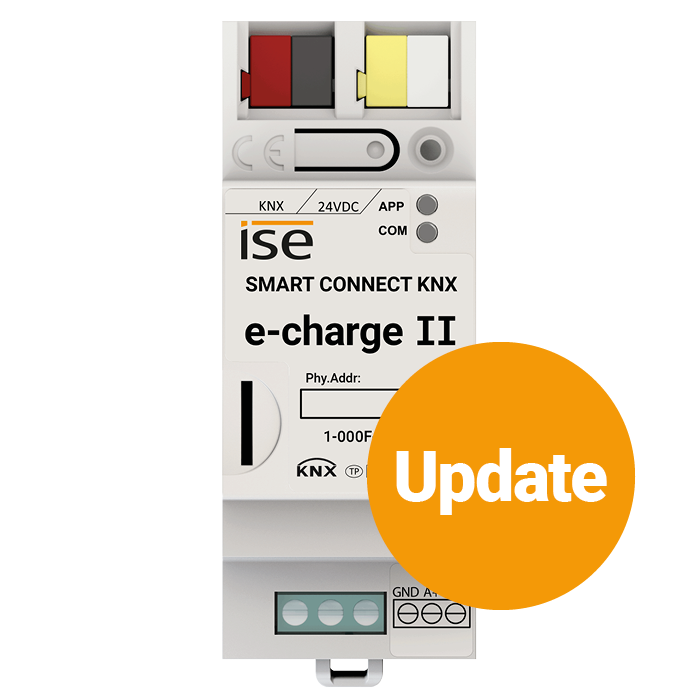 New firmware, new possibilities
Version 1.4 for the SMART CONNECT KNX e-charge II available!
Even more diversity! With the new update V1.4 the SMART CONNECT KNX e-charge II supports the integration of additional manufacturers of charging points. From now on, the following charging points can also be integrated:
Eve Double Pro-line from Alfen
connect.home from Heidelberg Amperfied
AMTRON® Compact 2.0s from Mennekes
i-CHARGE CION Pro from Schrack Technik
Another new feature is the static load management.
Your charging point is not yet included? Please feel free to contact us. We are constantly working on integrating more manufacturers to offer a wide variety. Click here to share your request with us: Send E-MAIL
The device can be updated using the integrated function on the device web page. The update is free of charge. You can find the new product database entry in the download section of this page.

For more descriptions of the new features and the extended license terms see the product manual.
Integration of five charging points per device
Dynamic load management (DLM)
Static load management (SLM)
Simultaneous operation of charging points from different manufacturers (mixed operation)
Prioritisation of one charging point
Grid-supporting control by grid operator
KNX group objects Charging: Charging point status, Connected, Charging, Charging complete*, Interrupt*, Start/Stop*, Unlock*
KNX group objects Charging Current, Power, Energy*, Energy consumption last charge*
KNX group objects Communication ID (EVCCID)*, Charging point internal temperature*, Temperature warning*, RFID tag*, Serial number*, Charging point firmware version*
KNX group objects Fault
Support for external electricity meters (Iskra, Phoenix, generic) at charging points which are not equipped with an integrated electricity meter
KNX Secure
Completely configurable in ETS
Extensions via firmware updates
Supported charging points
SMART CONNECT KNX e-charge II
Item number: 1-000F-003

ise Individuelle Software und Elektronik GmbH
Osterstraße 15
D-26122 Oldenburg
Tel. +49 441 68006-11
Fax +49 441 68006-15
Image credits: © ABB, © ABL, © Alfen, © ebee, © Heidelberg Amperfied, © KEBA, © Mennekes, © Schneider Electric, © Schrack Technik, © Stöhr