Robust and simple access from everywhere (ETS, GPA, Homeserver, IP devices, camera)
Fast setup – no configuration needed on the router
Also maintain non-KNX systems remotely thanks to the integrated VPN

1

Independent of provider and type of Internet access (LTE, etc.)
Security through access control and encryption
The smart home uses e-mail, SMS or voice message to send information on events
Receive all events as a push notification on the smartphone with the MySDA app
Meet customer wishes quicker, no more appointments or journey times
No follow-up costs (excluding SMS services, voice messages)

2
This is how installation and communication works
The SMART CONNECT KNX Remote Access is simply connected to the home network. It then connects to the portal server (www.securedeviceaccess.net) automatically through your existing Internet connection. Communication between the Remote Access and the portal server is encrypted and secured with digital certificates.
With a connection to the home network, you can now access almost all of your network devices using the Internet. Depending on the network protocols supported by the respective device, access occurs directly through the SDA portal server or through the SDA client software available for windows platforms. As the SMART CONNECT KNX Remote Access version 6.1 and higher also works as a VPN server, you can now also easily perform many maintenance tasks remotely, which you could not realise with the Remote Access previously. You can use the KNX connection to connect the Remote Access with the KNX installation in your home. This enables you, or your electrical installer, to access your KNX devices from anywhere, e.g. with the ETS.

Don't worry, though. The portal server is located in Germany and is subject to the German Data Protection Law.

You can find answers to the most frequent questions about IT security with SMART CONNECT KNX Remote Access in our FAQs.
For all KNX smart home owners who can't be everywhere at once – but would like to be: stay up to date via push messages on your smartphone. As soon as anything important happens in your KNX smart home, you receive a message straight to your mobile phone.
The + points at a glance:
+ Notifications delivered as a push notification on your smartphone
+ Manage and share notifications easily
+ Attachments as gallery view (e.g. IP cameras)
+ Convenient access to devices in the network

The app also offers real added value to system integrators, electricians and building services technicians who look after a number of KNX installations and wish to offer their customers an excellent service.
Log in with your personal SDA access data. You will receive a comprehensive overview of all remote access devices in your account. Depending on your individual configuration, you will receive messages like: "Someone has opened a window", "someone has rung the doorbell" or "the washing machine cycle has finished". If you get notifications of movements on the property, for example, you can also have your IP camera send you an image as an attachment. The images are clearly shown in a gallery view.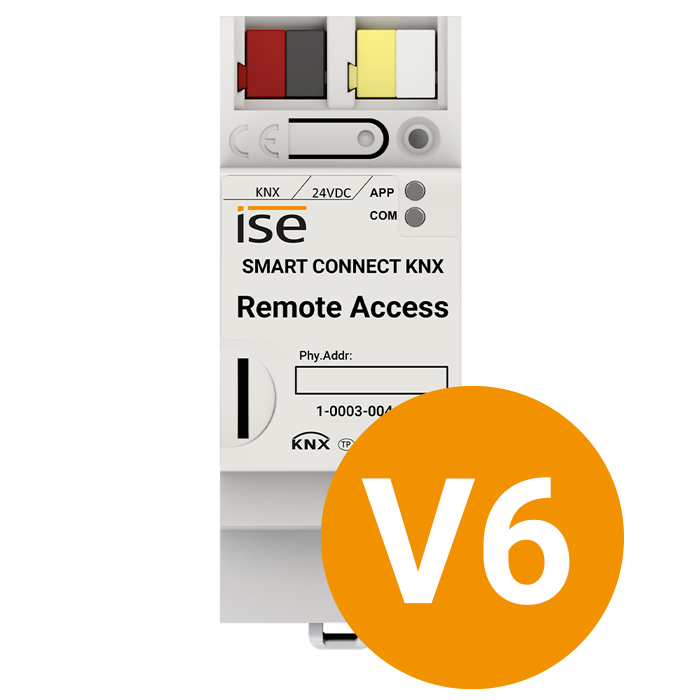 New firmware, new possibilities
Version 6.1 for the SMART CONNECT KNX Remote Access available!
With the latest update V6.1 the SMART CONNECT KNX Remote Access gets an extensive VPN feature. The Remote Access serves as a VPN server. This allows you to work in the remote network without needing to make complicated router settings. Also, you can maintain not only KNX systems remotely, but any other systems.
The SMART CONNECT KNX Remote Access version 6.1 and higher also supports KNX Secure.
You can update the gateway free of charge using the integrated function on the device web page.
If your current firmware is lower than version 4.0, you can find here important information about updating to firmware version 6.
Secure remote maintenance and configuration of KNX installations via ETS
Secure remote maintenance and configuration via Gira Project Assistant (GPA)
Secure remote maintenance and configuration via Gira HomeServer Expert
Remote maintenance/remote access via VPN
Secure remote access to web-based visualisations (HTML)
Secure remote access to visualisations with Gira X1 or Gira HomeServer
Secure remote access to elements such as cameras, router and printer
Secure data transfer through encryption
Firmware 6.1 and higher fully supports KNX Secure (an FDSK is already contained in devices which were supplied with at least firmware 4.0 ex factory)
Convenient remote diagnostics by saving and retrieving telegram recordings with the data logger
Time server to send time and date on the bus at configurable intervals
Easy to use regardless of provider and router (LTE or landline, IPv4)
Optimised KNX/IP communication for the use of mobile and very slow connections
Integrated IP interface with up to three tunnel connections (ETS bus or group monitor)
Access management of users and groups can also be controlled via KNX objects
Support for 50 notifications (e-mail, SMS

2

, voicemessage

2

, IFTTT)
Notification triggers can be individually configured (filters, conditions, hysteresis)
Receive all events as a push notification on the smartphone with the MySDA app
Threshold value specification for notifications
Integrated Ethernet switch with two RJ45 sockets
2 GB data volume per month
Unlimited usage duration and 5 years guaranteed server operation
Portal server is located in Germany and is subject to the German Data Protection Law
Extensions via firmware updates
SMART CONNECT KNX Remote Access
Item number: 1-0003-004
ise Individuelle Software und Elektronik GmbH
Osterstraße 15
D-26122 Oldenburg
Tel. +49 441 68006-11
Fax +49 441 68006-15
1. Chargeable additional service seven (formerly sms77) or Messagebird
2. Possible to choose between Layer 2 (TAP) and Layer 3 (TUN) to use VPN on Windows