Perfect integration of Axis network devices into application scenarios
Stronger combination of both systems. Motion detector (KNX) starts the action or Cross Line Detection (camera) switches on the light
Private sphere (masking) can be controlled via KNX, for instance, through presence and absence
Camera responds directly to KNX/IP after successful installation
Third-party applications on the camera can also communicate with KNX
In addition to network cameras, all Axis network devices with ACAP are also supported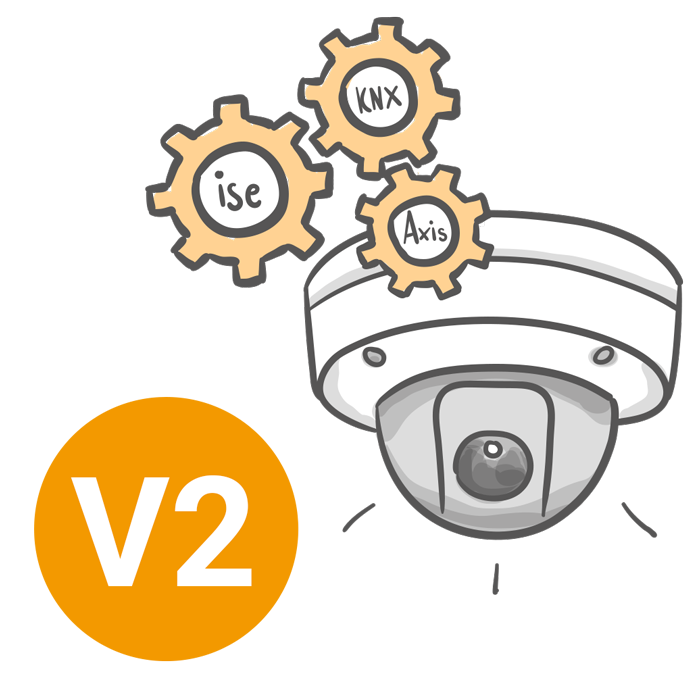 New firmware, new possibilities
Firmware version 2.3 for the SMART APP KNX Axis plug-in available!
Onward camera firmware version 5.60 please use the software for the SDK2.
Please note that when updating from version 1.0 to version 2.2 or to version 2.3, the action rules must also be revised. When updating from version 2.2 to version 2.3, no adjustment of the action rules is required.
If you want to upgrade from version 1.0 up to version 2.x, you will need a new license file. We are happy to exchange your current license for free, specifying the camera serial number and the license code for a current license. Please contact our sales department at sales@ise.de.
An update of the product database entry (KNXPROD) is REQUIRED when updating from version 1.0 up to 2.x with the new firmware.
New AXIS camera firmware
Compatibility up to firmware version 10.5.2
Due to a new AXIS camera firmware, there are currently compatibility issues with the SMART APP KNX Axis.
Please use firmware version 10.5.2 as the highest firmware.
Support of Axis network cameras
Support of Axis WLAN cameras

1

Support of Axis D2050 -VE Network Radar Detector
Support of Axis door stations
Support of Axis network loudspeakers
30 communication objects for sending from KNX to the Axis camera (1 bit)
30 communication objects for sending from
the Axis camera to KNX (variable bit length)
Control of actions on the camera
Triggering of image, video and/or camera message sending
With PTZ cameras, predefined positions can be focused on
Camera settings (properties) can be read out and sent to the KNX
Sending of a message to the KNX with access to the camera's live stream
Monitoring of the camera itself, e.g. for overheating or breaking of the connection to the saving location for videos
Third-party applications can send values to the KNX
Simple integration into KNX (can be completely configured via ETS and the camera's event system)
Communication and Installation
Item number single license: A-0001-008
Item number 5 volume license: A-0001-019
Item number 10 volume license: A-0001-020
Delivery/accessories: License number for plugin
ise Individuelle Software und Elektronik GmbH
Osterstraße 15
D-26122 Oldenburg
Tel. +49 441 68006-11
Fax +49 441 68006-15
1. Only in combination with other system components that support reliable communication, e.g. Gira KNX/IP Router.